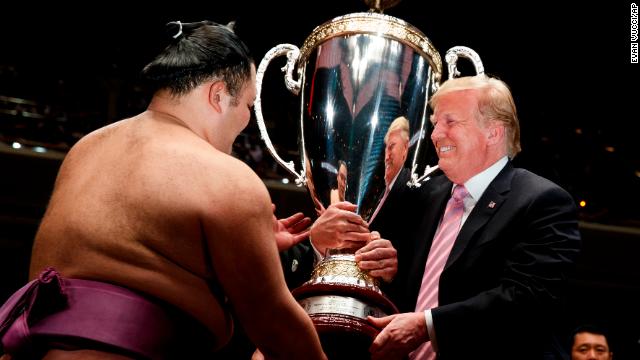 President Donald Trump awarded the "President's Cup" to sumo champion Asanoyama in Tokyo following a 15-day tournament. 
Trump made brief remarks before handing the 4.5 foot trophy over to the winner.
Trump said the cup was in honor of Asanoyama's "outstanding achievement" at the sumo grand championship. 
"I herby award you the United States President's Cup," Trump said to loud applause. 
Trump also shared photos of the event in a tweet.
"Tonight in Tokyo, Japan at the Ryōgoku Kokugikan Stadium, it was my great honor to present the first-ever U.S. President's Cup to Sumo Grand Champion Asanoyama. Congratulations! A great time had by all, thank you @AbeShinzo!!" the tweet reads.
When asked how it felt to be awarded the Cup, Asanoyama said "I was overjoyed, almost too much to say in words."
Asanoyama had clinched the championship on Saturday, but still competed in front of Trump and Japanese Prime Minister Shinzo Abe.
Irish expatriate sports columnist and former amateur sumo wrestler John Gunning told CNN that Asanoyama's win is a huge upset.
"To win a tournament just over three years after reaching the highest division is a great accomplishment, it's a huge shock, its something you don't normally see," Gunning said.  
"He's the kind of guy who will probably never win another tournament. But he's also the first winner of the new imperial era," Gunning said.